Conservation dog Zach has become New Zealand's only certified hedgehog detection dog, after passing his final certification exam in Christchurch this month.
Zach, known as Professor Zachariah Q Wigglebottom for his tendency to wiggle his bottom with excitement when he finds a hedgehog, has qualified as part of the Department of Conservation's Conservation Dogs Programme.
Mixed breed Zach began training in 2021 with trainer Adriana Theobald as part of their work with landscape scale conservation project Te Manahuna Aoraki Project. Zach showed an early talent for hedgehog detection and became qualified in 18 months which is a relatively quick timeframe.
"It's important for a detection dog to be species specific. Zach is very enthusiastic and people focused, and wants to please which makes him easy to train. When Zach finds a hedgehog he gets quite excited and stays with it which is quite different to how he reacts to a rabbit or ferret so we have a high level of confidence in his ability," says Adriana.
There are high numbers of hedgehogs in Te Manahuna / the Mackenzie Basin and research has found them as high as 1937m in the mountains. They are super-killers, eating chicks, eggs, lizards, skinks, wētā and other rare insects.
"Adriana has put in huge hours to train Zach and we are delighted they are now certified to work across the project area. Our monitoring of braided river birds like turiwhatu/banded dotterel has caught hedgehogs on trail cameras eating eggs from nests. Zach and Adriana will provide another key tool in our tool box to detect hedgehogs and help us protect native species," says Te Manahuna Aoraki Project Manager Simone Smits.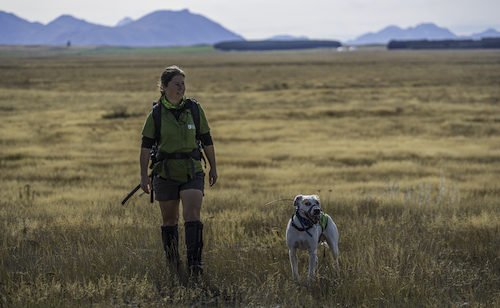 Department of Conservation Manager of the Conservation Dogs Programme Helen Neale says Zach is the first certified hedgehog detection dog in New Zealand for 12 years with one more currently in training.
"Conservation dogs are a key tool to help quickly detect pests and Adriana and Zach have shown a real aptitude for this work. As more parts of New Zealand become predator free by 2050, conservation dogs will be vital in helping to keep those areas that way through surveillance work and detecting incursions early."
Photos Adriana Theobald and Mark Orton